You've got a lot riding on your hitch—your home-away-from-home, your daughter's prized barrel horse, the classic car that you and your father spent many hours restoring, or the crucial equipment and goods needed to run your small business...

When the only thing keeping your truck and trailer together are some relatively small bits of engineered steel, a strong and sturdy hitch should do more than just haul heavy loads. In a wreck situation, your hitch can make the difference between pulling through an accident mostly intact or enduring even greater misfortune.

That is why, at B&W, we engineer our hitches for the longest rides, the worst roads, and even the worst stops.

Because of the quality of our welds and the strength of our towing products, we often receive messages from customers wishing to share their story of a recent accident—expressing their thanks that their hitch held up and helped prevent a greater tragedy.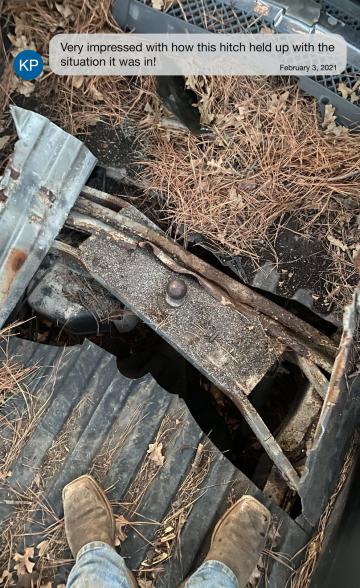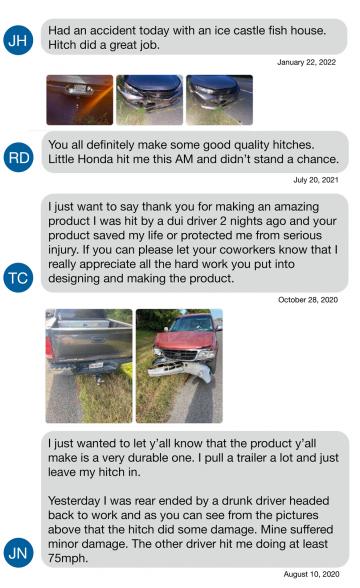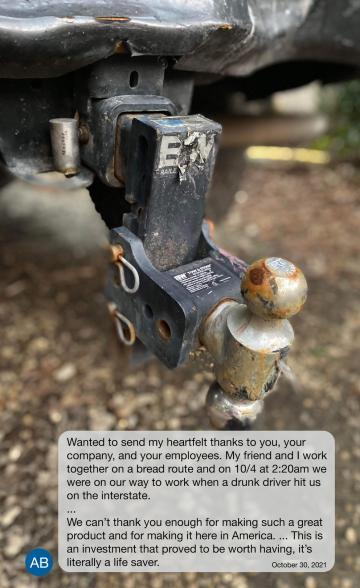 One recent story is from the owners of a small but bustling farm in Centralia, Missouri.

Last fall (2021), Jason Lockwood reached out to personally convey his gratitude—noting how well his Tow & Stow performed during an unfortunate collision that took place while driving to the local farmers market.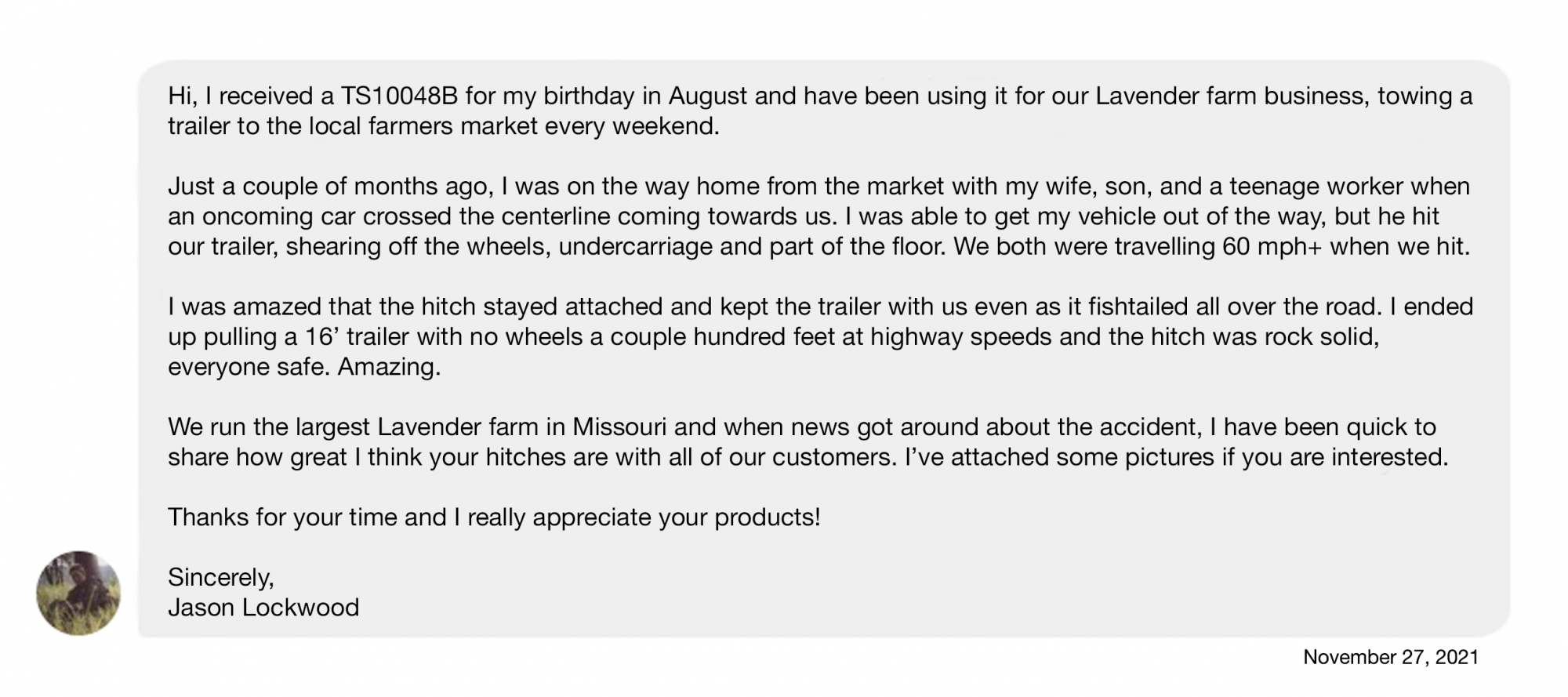 As much as we wish it were less common to receive messages such as this, we are always thankful to hear that a customer and their passengers were largely unharmed because their hitch held strong and performed as expected.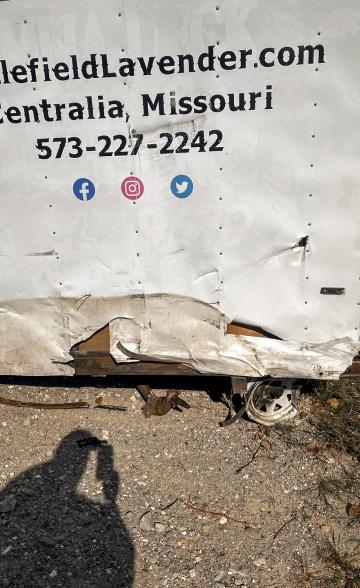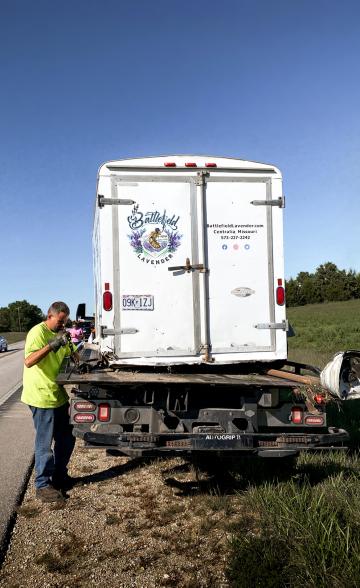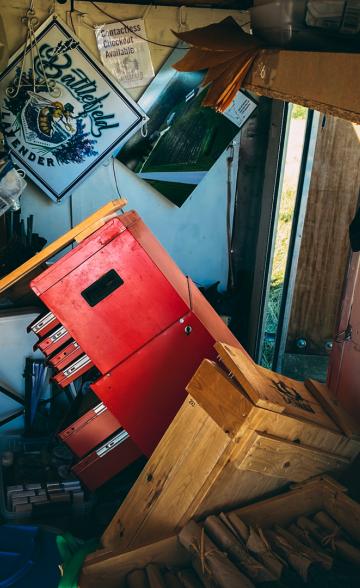 After hearing from the Lockwoods, we reached back out to see if there was anything we could do to help. The hitch, while it remained connected to the truck and trailer, was bent from the force of the impact.
Due to many factors, B&W products are not made to withstand severe accidents without damage. And any hitch involved in an accident may suffer damage that may not be initially detectable. For your safety and the safety of those that share the road, we advise replacing any B&W product that has been in an accident. We first recommend that customers check with their insurance about including the hitch on the claim. However, if it is not covered, we will do our best to help get you back on the road with as little hassle and cost to you as possible.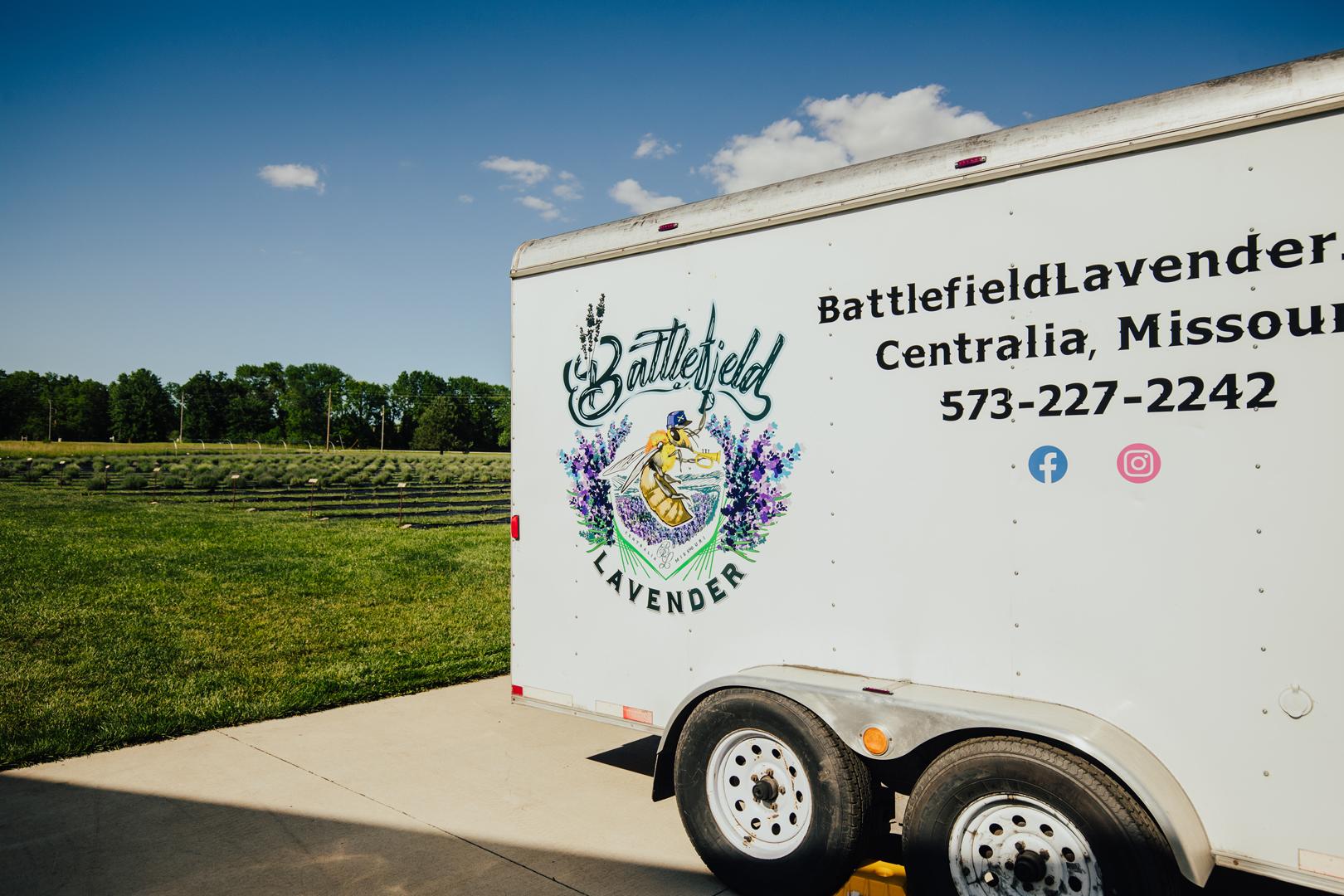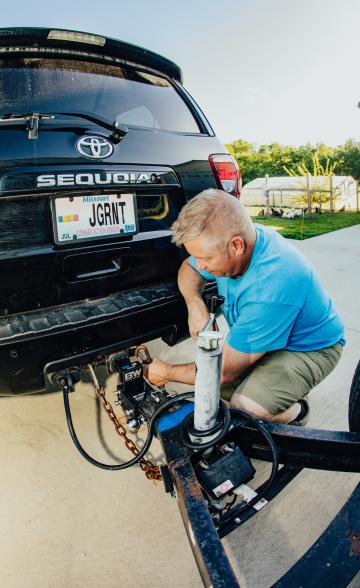 Fast forward to June 2022, we stopped by Battlefield Lavender to catch up with Jason and to check out how things were going on the farm. While there also took the opportunity to meet the whole crew and learn a little more about lavender farming in the Midwest.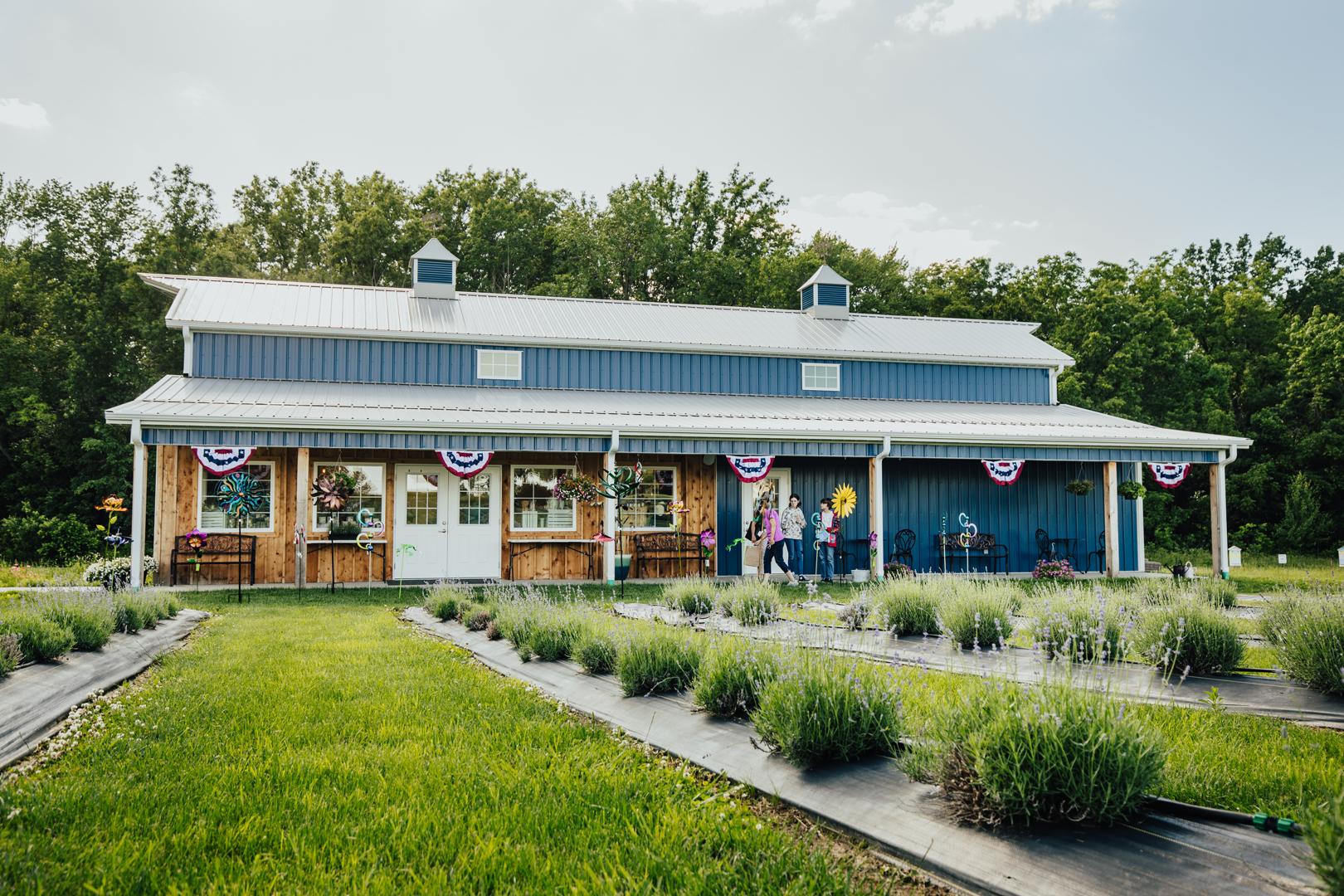 What does an average day look like for your family?
Like a lot of families, our average day is very busy, often chaotic. We still have two school-age children at home, two dogs, two cats, and 35 chickens to take care of in addition to running the farm. My wife, Katie, and I still work during the week, so ensuring that our day-to-day tasks get done often take us well into the evenings before our day is finished. On the farm, everyone pitches in.
"Our youngest, Shaelyn, helps grow the luffa sponges and runs a cash register at farmers markets for us. Our middle son, Nick, helps with the family's beehives and wraps and bags orders at the markets. Joe, our oldest, was a huge help with all things on the farm but recently moved out to attend State Tech down in Linn, Missouri and is studying to be a manufacturing automation and robotics technician. We always look forward to him coming home from school and it is also nice to have an extra set of hands to help! In addition, my mother helps make the soap and bath and body products and Katie's mom helps to make the jellies that have our lavender in them."
          - Jason Lockwood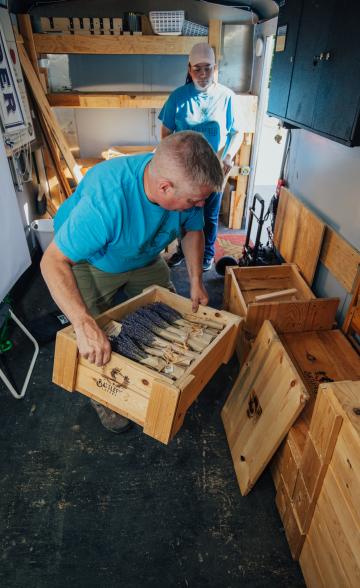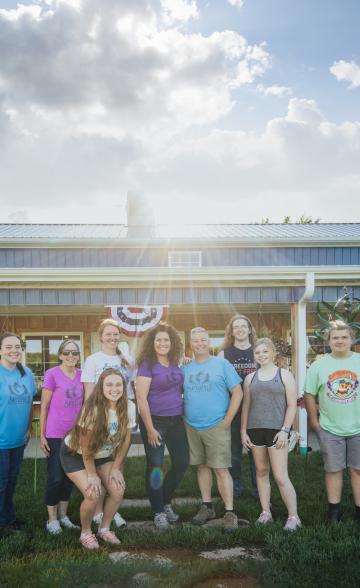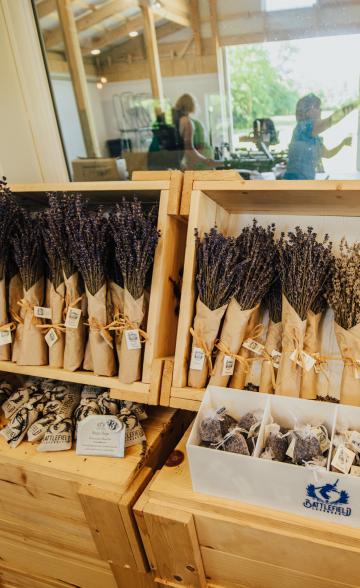 To successfully grow and harvest lavender in the Midwest, is there anything that you've found you must do differently than if you were located in a more moderate climate? 
We have. Our farm is now almost entirely English Lavenders. We have tried growing Spanish, French, and hybrid varieties with very little luck. Central Missouri has very hot summers and harsh winters, and we have found that the non-English varieties are just not robust enough to survive and thrive in the varied climate of our location.
What practices do you follow in planting, irrigation, care, harvesting, and maintenance? 
 Our entire field is planted, weeded, and harvested by hand. We do this not just to ensure that the plants are kept in the best condition possible, but by being with each one of the plants regularly, it give us the opportunity to examine and evaluate each of them to ensure their health and beauty for our agritourism guests. We feel that we would not have the best quality field if we used mechanical harvesting and automated maintenance practices. We do have an irrigation system for our field of almost 2,500 plants, but Lavender requires very little water once it has been established.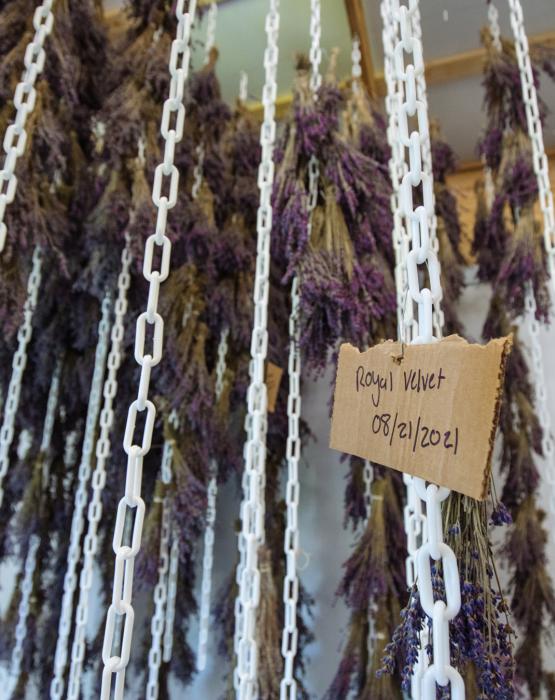 Are there certain practices that you are using that you would like to see more farms, like yours, follow as well?
Yes, particularly in the areas of energy conservation and reducing or eliminating chemical use.

While we do fertilize our grass to keep it looking its best, we use no glyphosates or chemical weed control on any of the Lavender plants. All weeding is done by hand, and yes, that is a LOT of bending over for 2,500 plants! The areas around our rows are weeded using hoop hoes and trimmers so that the unwanted plants can be returned to the soil as valuable organic matter. Being a specialty farm, our success starts with and depends on healthy soil.

Our utility barn features 44 solar panels for a total of 14.1 kilowatts of production. Our array produces more electricity than the business uses annually, and we feed the surplus back into the grids for credits to use in the winter. Additionally, the six acres of Black Walnut forest around the property offsets more CO2 than is generated by our fuel use mowing and getting to the farmers market each week.

We would encourage other farms to investigate the opportunities for using renewables in their operations to possibly reduce operating costs and impact on the environment. As a business, we are proud to be net carbon negative. 
What are some of the biggest challenges you've faced? 
Like most businesses and families, I think the biggest, most recent challenge has been dealing with COVID, community lockdowns, and navigating the recovery. 

When we first started our farm, we mainly planned on just taking our products to markets, festivals, and events. When the lockdowns happened, all those opportunities to sell our product dried up overnight.  

Looking for options, we opened our farm up to the public to pick their own Lavender. In 2020, we set up event tents on our property and sold fresh bundles of Lavender using our mobile phones. Surprised at the turnout and enthusiasm by the public to visit the farm, we changed our business model to being an agritourism destination in addition to selling at markets and events.

Last year, we added weekly farm tours and built a new visitor barn with a drying room so guests can experience how we make our products and see thousands of dried bundles of lavender hanging, waiting to be processed into products.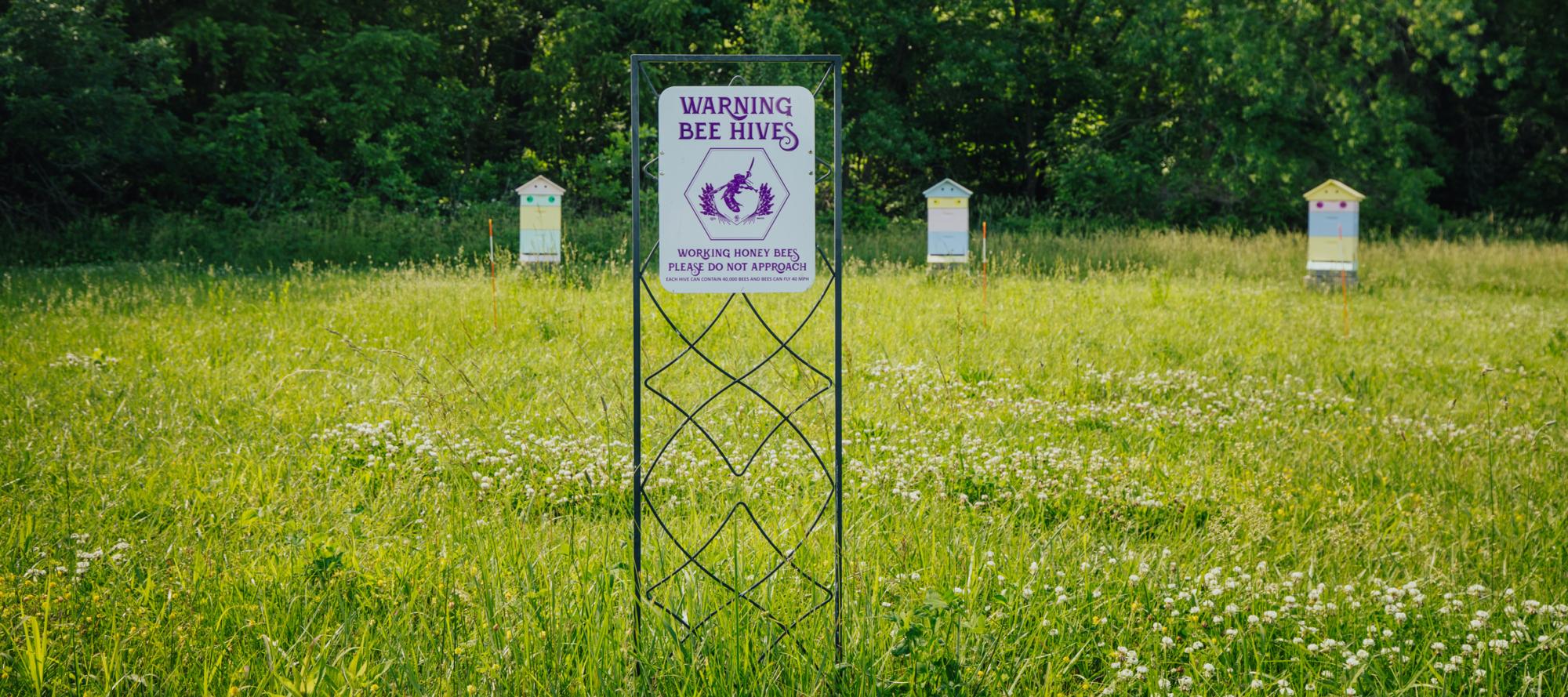 Are there any memorable experiences from these past few years that really stand out?
Really, the community support has been the biggest standout for us. We have great neighbors and customers; and being part of our local and broader communities has been the highlight of our business. Farming, even with a specialty product like Lavender, is often a largely solitary effort that includes long hours and hard, behind-the-scenes work. It all pays off when we get a chance to share the results with visitors and at markets and events we attend. It's really affirming and fun to see people of all ages and backgrounds enjoy and appreciate what we have produced.
What are your goals moving forward? 
The past few years have been a whirlwind for growth and change for us, so this year we are going to concentrate on daily operations. We're examining and refining all our processes to ensure that everything we do, from our guest experience and harvesting to delivering a finished product is as high-quality as possible. 

The following year might bring a field expansion where we would add another 1,100 plants and expand our Lavender varieties from 14 to 20.